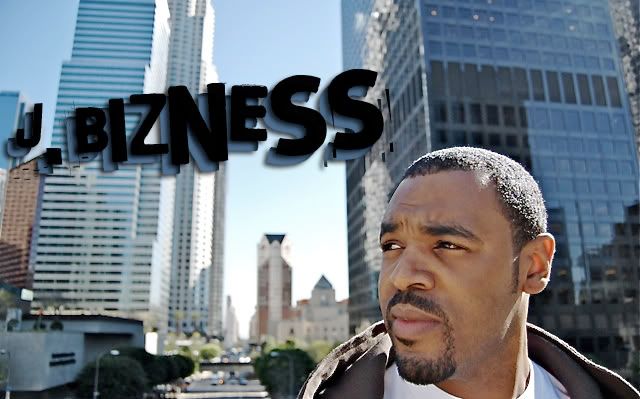 What it is good people. I would like to introduce (or re-intro) ya'll to my man J.Bizness. Hailing from the 909, he's the producer of the songs "Black Music" & "One Idea" on my debut album Price I've Paid. I have long said that this cat is a very dope actual "producer" with vision for songs that go along with the beats he creates. The press release is below. Listen to the beats and enjoy.
peace
www.myspace.com/jbizthaill
www.illregularinstrumentals.com/
The Re-emergence of the West Coast Sound
INGLEWOOD, Calif. - April 8, 2009 - J. Bizness, Los Angeles winner and national finalist of Red Bull Big Tune 2008, readies the release of his debut hip hop instrumental album. The album titled Reason: Beats & Pieces is set to release under the artist's own imprint Illregular Instrumentals,
LLC. online for digital distribution only, on Itunes, Amazon, Rhapsody, and Napster on June 9, 2009.
Amidst several budding artists hailing from the West Coast, with music blurring the sounds between genres, eras, and regions, a familiar yet modern sound emerges from newcomer J. Bizness. Solely using Propellerhead's Reason program, J. Bizness produces Reason: Beats & Pieces; a masterful work that displays the wide spectrum that is hip hop. With dark tracks like "PBS" to soulful samples like "Choppy", this debut album exhibits the versatility of his talent. Heavily influenced by producers like DJ Battlecat, DJ Premier, and J. Dilla, J. Bizness takes a fresh approach to creating music using unconventional sounds while marrying them to the classic West Coast flavor.
J. Bizness has worked with the lauded underground Los Angeles emcee, Trek Life and was featured on his 2006 release "The Price I've Paid" amongst notable producers as DJ Babu, Evidence and DJ Rhetmattic, in which he produced and co-wrote 2 tracks. He was also featured on the 2003 release "Heaven Cent" by Prophit P.A.N.I.C., earning a nod for the Independent Hip Hop Artist of the Year at the Los Angeles Music Awards.
Catch J. Bizness and the [http://www.redbullbigtune.com/2/] Red Bull Big Tune Beat Battle National Finals that will be televised this Saturday, April 11, 7:30 PT/ET on BET.
Download free listening copy here:
For additional information please contact:
Business Inquiries & Publicity: Leah Wilson
willeah@gmail.com
310.654.1800
Booking Agent: Tara Alphonso
taraalphonso@sbcglobal.net
925.813.1584